Recently, a video of a police officer from the Gujarat went viral and the nation is lauding his courage and once again made us believe the phrase not all heroes wear cape. They
Kalayanpur in Gujarat is severely flooded and the lives of the villagers have turned into a living turmoil. A particular incident from kalyapur grabbed the attention of the netizens and made them believe humanity still exists.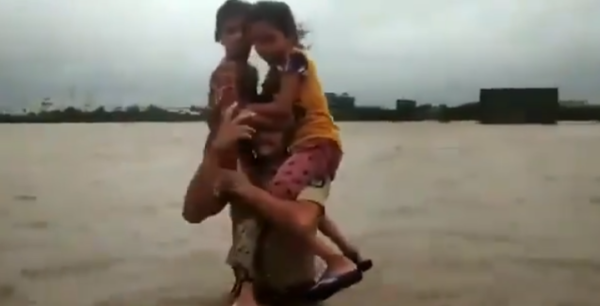 In the video, a police officer can be seen coming as a ray of hope for the distraught flood victims in the mobri district. Pruthvirajsinh Jadeja a police constable emerged as the savior of two little girls. He carried the girls on his shoulders for approximately 1.5km of walking in a waist-deep water flooded stretch, before reaching out to others.
Despite of the current ruthless situation Pruthvirajsinh was extremely calm while carrying the girls to safety.
The Chief Minister of Gujarat Vijay Rupani was the first person to acknowledge the courage of the police officer.
A man in uniform on duty…!!

Police constable Shri Pruthvirajsinh Jadeja is one of the many examples of Hard work , Determination and Dedication of Government official, executing duties in the adverse situation.

Do appreciate their commitment… pic.twitter.com/ksGIe0xDFk

— Vijay Rupani (@vijayrupanibjp) August 10, 2019
Other Celebrities and netizens praised the bravery of the police officer:
#1
What a wonderful and touching video of Constable Pruthviraj Sinh Jadeja in Kalyanpur village of Gujarat rescuing 2 children by walking one and a half kms in flood water. Hats off to his exemplary dedication and courage #GujaratFloods pic.twitter.com/Ia9cgcYIIP

— VVS Laxman (@VVSLaxman281) August 11, 2019
#2
Hero
Gujarat Police constable Prithviraj Singh Jadeja rescued 2 children by walking 1.5 Kms in deep flood water.
Prithviraj Ji,Salute to your courage & putting service before self..Your heroic act will inspire millions across the nation@vijayrupanibjp #GujaratFloods pic.twitter.com/y2tLRQhrAN

— Major Surendra Poonia (@MajorPoonia) August 11, 2019
#3
Media will never show you. appreciate the brave police constable prithvirajsinh jadeja while in morbi flood , so keep calm and trust @GujaratPolice …@CMOGuj @vijayrupanibjp @narendramodi #GujaratFloods pic.twitter.com/uuhEGii6IB

— Divyarajsinh Dabhi (@drDivyarajDabhi) August 10, 2019
#4
Real life Baahubali

Hats off and a big salute to Police Constable Shri Pruthvirajsinh Jadeja. True hero and huge inspiration. You have won our hearts!

More power to each and every unsung hero of the @GujaratPolice! Jai Hind #GujaratFloods pic.twitter.com/H207YzufB4

— Vivek Anand Oberoi (@vivekoberoi) August 11, 2019
#5
Video from #GujaratFloods
Hats off indian police pic.twitter.com/k8bk6seCmk#GujaratFloods

— MANISH MEENA (@Manish98Kumar) August 11, 2019
#6
Salute to this Hero real Police Man & True India whose Humanity sets an example for others #JaiHind @vijayrupanibjp #GujaratFloods https://t.co/cLTuUffqKj

— Amit Mishra (@akm1255) August 10, 2019
#7
Us din bhi Bhagwan Krishna ke pita Vasudeva ne apne bete Kanhaiyya ko bachane ke liye tokri me baad laangh Gaye aaj bhi vardi me yeh Vasudeva kisi aur ki Krishnao ko bacha rahe hai…..

— Guru consejero (@IGiveGyaan) August 11, 2019
#8
Salute to you Mr. Jadeja. You are God sent gift to people like those kids who are in distress. God bless you abundantly !!!

— Sumanth Tholeti (@sumanththoleti) August 10, 2019
#9
Watching this from karnataka..with moist eyes … such a selfless bravery ..unparalleled ..Sashtang danavat pranaam to Pruthvirajsinh jadeja …

— Shreeharsha Hegde (@HEGD4101) August 11, 2019
#10
A Big Salute sir Jai Hind pic.twitter.com/xuBSLgWYer

— Dasari Chiranjeevi (@ChiranjeeviDas9) August 11, 2019
The post Twitter Is Praising The Gujarat Cop Who Carried 2 Girls On His Shoulder In Waist-Deep Floodwater appeared first on RVCJ Media.