The first semi-final of cricket World Cup 2019 between India and New Zealand started yesterday but unfortunately, it was stopped due to rains. The match got resumed today as it is the reserve day and New Zealand managed to put up a score of 239/8 in the stipulated 50 overs.
The Indian cricket fans were quite excited today as the target given by New Zealand is certainly an easy one for team India considering the top form of Indian batsmen, especially Rohit Sharma and Virat Kohli. However, things turned ugly when Indian opener Rohit Sharma got out for just 1 run and he was soon followed by Indian skipper Virat Kohli who also scored only 1 run. Situation deteriorated further when K L Rahul also departed and India's score was 5 at the loss of 3 wickets.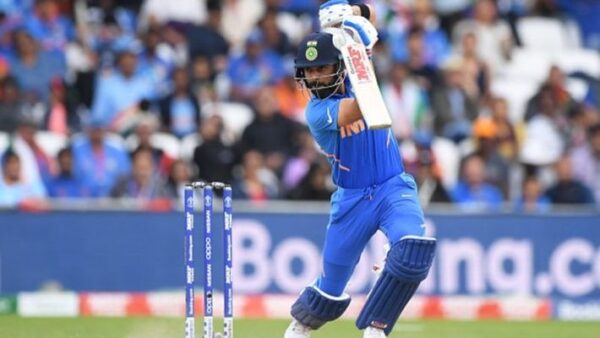 There was an environment of panic among the Indian fans and some took to the micro-blogging site Twitter to express their opinions. Some online users are desperately missing the Indian opener Shikhar Dhawan who has been ruled out of the World Cup due to an injury while several others are hoping that former Indian skipper M S Dhoni will do wonders today and few are requesting rain to arrive on the field.
Here are some of the hilarious reactions:
#1
Virat kohli searching for batsmen in dressing room#INDvsNZ #ICCWorldCup2019 pic.twitter.com/rpBCUzGWHF

— Cricket panditt (@seee774) July 10, 2019
#2
All Indian supporters right now:#INDvsNZ pic.twitter.com/S4RbfGhl0t

— Rio Loves Camila (@princescamzy) July 10, 2019
#3
Indian right Now#INDvsNZ pic.twitter.com/l80SVGx1MO

— Uzair Gul (@TruePak52663319) July 10, 2019
#4
3 overs and 3 wickets… bc baarish… kidhar ho… #INDvsNZ pic.twitter.com/qVSLnrNDXT

— unhuman being (@nimisht7) July 10, 2019
#5
#INDvsNZ What world see
VS
What Indian fans see #CWC19 pic.twitter.com/glK0fajZpa

— Tiruttani Vijay Fans Fort (@VFFTRT) July 10, 2019
#6
Pant hitting 4s

Me : #INDvsNZ pic.twitter.com/lXWn2P0fkO

— Saurabh (@Marvellous_13) July 10, 2019
#7
Indian batsmen be like.#INDvsNZ pic.twitter.com/9Mtg8XF6AA

— Funnily Serious (@notionalvieww) July 10, 2019
#8
#INDvsNZ we need this mantra right now pic.twitter.com/aPpXKB0sxk

— Priyanshu Charan (@PriyanshuCharan) July 10, 2019
#9
Condition of every indian right now #indiavsNewzealand #INDvsNZ pic.twitter.com/RYMWHRkAYm

— Engineering ki JAY (@baklol_Er) July 10, 2019
#10
#INDvsNZ
The last hope… pic.twitter.com/b39ie1k9Y9

— RAHUL TYAGI (@rahulastic) July 10, 2019
#11
Dhoni Is Coming Alongwith cloud ,,,,Hope=Mahi Sir….#INDvsNZ pic.twitter.com/EFdv1zIEaU

— Jalendar Mahakud (@jalenraja) July 10, 2019
#12
Our new god#INDvsNZ pic.twitter.com/HbjEHp9Jn2

— Vineet Tripathi (@iVineetTripathi) July 10, 2019
#13
Me after seeing 5-3 score.#INDvsNZ pic.twitter.com/1nUhioTIoF

— $hàrbàt (@AjazShifa) July 10, 2019
#14
Meanwhile indian top order…#INDvsNZ pic.twitter.com/KzzucKjedf

— Nehal Bhatt (@_lazybaba_) July 10, 2019
#15
How many runs both of you made today?#INDvNZL #INDvsNZ pic.twitter.com/LjDbfXEygZ

— Snkit Aingh (@AnkitSingh__) July 10, 2019
Well, Dinesh Karthik also returned soon and till the time the article was written, India was 71/5 in 22.5 overs.
The post Twitter Flooded With Memes After Virat, Rohit & Rahul Got Out At 5/3 In IndVsNZ appeared first on RVCJ Media.