Liverpool became six-time European Chamions after beating Tottenham in the UEFA chamionship league. The 2-0 victory at the Metropolitano Stadium conquered the trophy after 7 long years.

Mohammad Salah the Egyptian footballer scored a magnificent goal in the UEFA finals for Liverpool. In the first two minutes of the match, Salah scored a goal and created a history. For the 26-year-old footballer, it was a huge moment as last year he was forced to leave the pitch as he clashed with Sergio Ramos captain of Real Madrid.
Last year Salah couldn't fulfil his dream of lifting the cup but this year Salah became the first Egyptian to lift the European Cup.

After the match and the locker room celebrations, Players with their families took to the pitch to take pictures with the UEFA Cup. Mohammed Salah was accompanied by his wife Magi and little daughter Makka. Makka stole the limelight from her dad with her cuteness. But few netizens got offended by the attire of the little girl who was wearing a skirt and a top.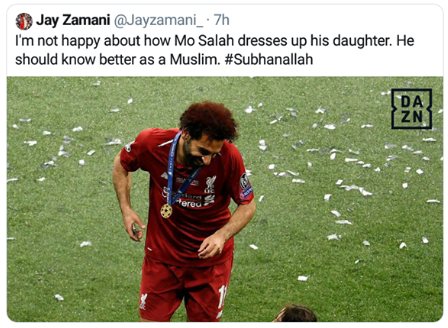 Mo Salah was bashed for allowing her daughter to wear the skirt during the holy month of Ramadan. Well, Twitter was divided and bashed the man who criticized Salah for her daughter's attire.
#1
You're an embarrassment and the worst kind of Muslim. In the month of Ramadan, worry about yourself and let a man who has actually been a really positive role model for Muslims around the world live his life. Frankly it's weird you're thinking this about someone else's daughter. https://t.co/QUNVnZOrvg

— Nooruddean (@BeardedGenius) June 2, 2019
#2
Nobody:

I mean NOBODY:

Muslims: @MoSalah should have represented us better#Subhanallah pic.twitter.com/bkn8QdUDBR

— #ShattaSZN (@ShattaVirus) June 3, 2019
#3
I am a Muslim and I am sure I did not say that line to @MoSalah

— Mohammed Al-Shaghdari (@MShaghdari) June 3, 2019
#4
Mo Salah has represented Islam in the best possible way and at the grandest platform. Got to respect him for that. https://t.co/vrN549p7Si

— A tweep has no name (@MutungaDennis3) June 3, 2019
#5
Little Makka has more CL final appearances than the entire Man City football club pic.twitter.com/A9Y7OIb58R

— Nees (@NesreenMoussa) June 2, 2019
The post Twitter Educates A Man Who Tried To Teach Mohammed Salah How To Dress His Daughter appeared first on RVCJ Media.