India smashed their neighbouring country Pakistan and defeated the rivals by 89 runs through DLS at Old Trafford. India scored a total of 336 runs for 5 wickets that include the magnificent innings of Rohit Sharma's 140 runs, Virat Kohli scored 77 runs and KL Rahul made 57 runs along with Hardik Pandya's and Kuldeep Yadav's magnificent spell dominated the rival team for the 7th consecutive time in the World Cup history.
Pakistani skipper Sarfaraz Ahmed was brutally trolled by their supporters for losing the World Cup match against India on 16th June at Old Trafford. Sarfaraz was booed by their supporters present in the stadium for choosing to bowl first even after winning the toss.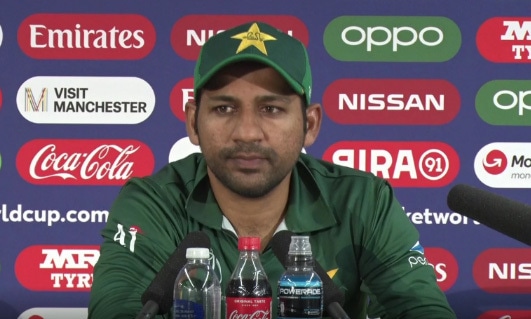 A video surfaced on the Internet, where the Pakistani skipper was seen on the field talking to somebody but the chants made by the Pakistani supporters grabbed the attention of the netizens on social media. Pakistani supporters were seen chanting "SARFARAZ mota Sarfraz mote Toss Jeet k batting ku nai ki Imran ki izzat bhi nai rakhi Tarik Jameel ko de do isse Dadhi badi karega". ( Sarfaraz you didn't respect the advice given by the prime minister of the Country Imran Khan. You're fat Sarfaraz)
Crowd trolling Pakistani captain.pic.twitter.com/YZMaGMs4bt

— Extremist (@hardcorefeminst) June 17, 2019
Desi Twitter flooded with hilarious replies on the video:
#1
Sarcasm by their own people pic.twitter.com/QAXOzdKqio

— ŠůŃñÝ BhåŘťÝ(JãÝ ğØďŠě) (@BhartySunny) June 17, 2019
#2
Those who are trolling are also Pakistanis

— Naman Mehta (@namannmehta) June 17, 2019
#3
— जनता का सेवक dj (@PratapR33554878) June 17, 2019
#4
One of the reasons why he's getting trolled on the internet. pic.twitter.com/3utMDE4a8g

— Sharad Nagpal (@nagpalshady) June 17, 2019
#5
Pakistani fan Ko aise behave nhi karni chahiye

— Kajal Singh (@KajalSi75892649) June 17, 2019
#6
Jo Boya hai Wahi Kha rahe hain

— RAEESAASIFARSALAN (@aasif_ma) June 17, 2019
#7
Why don't we understand that Indian team is far far better then ours …yes we are better in keeping antiques in our team

— Ngosheatr (@Razeehere) June 17, 2019
The post This Video Of Sarfaraz Ahmed Being Attacked By The Pakistani Supporters Goes Viral appeared first on RVCJ Media.