There is not a shred of doubt about the fact that Mahindra Singh Dhoni will forever remain the most beloved captain of the Indian Cricket Team. There is no one who can replace Captain Cool in our hearts.
A simple, humble man from Ranchi went on to become one of the best cricketers that not just India, but the world has seen. Around the world, Dhoni remains one of the most beloved players in the cricket fraternity.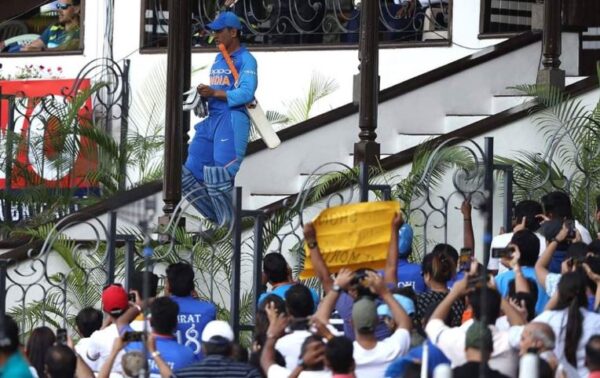 What is most remarkable is the fact that no matter how great a player Dhoni is or the sheer number of his achievements, he has still managed to retain his simplicity and his down to earth nature, which is more than what can be said for some of his other team mates.
Recently, Dhoni played a match in Ranchi, which was probably his last time at the stadium. Dhoni is someone who never forgot his roots. Ranchi is his hometown, the city that knows his failures and his successes, his heartbreaks and his achievements. And they surely did not let him down when he stepped in to play.
BCCI posted a video on Twitter, which showed the entire stadium cheering for the lion as he walked in. Check it out here:
When the 'Lion' walks out to bat in his den #INDvAUS pic.twitter.com/WKRKGpKgaB

— BCCI (@BCCI) March 8, 2019
Not just Ranchi, Dhoni has won over the crowds in Chennai as well. His loyalty and dedication to Chennai Super Kings in the IPL has been noteworthy, and fans treated him with the respect he deserved.
Whistle parakkum paaru! #ThalaParaak #WhistlePodu #Yellove pic.twitter.com/6EeMkYT0QY

— Chennai Super Kings (@ChennaiIPL) March 17, 2019
This is how people reacted:
#1
That's crazy!! #practiceonly https://t.co/IgHp5ro79k

— Scott Styris (@scottbstyris) March 17, 2019
#2
Dhoni is bigger than the Beatles. Sound on. Intense. https://t.co/vODWIlArS9

— Peter Lalor (@plalor) March 17, 2019
#3
There's something about the video. Can imagine someone watching it many years later and being blown away by the adulation. And then realizing he is walking in for a practice session. Pah. This is fandom. This is Dhoni https://t.co/PZDcexFsK0

— Siddhartha Vaidyanathan (@sidvee) March 17, 2019
#4
Imagine rocking up to your training session like this.. https://t.co/Bg0uVWw0Hs

— Albie Morkel (@albiemorkel) March 18, 2019
#5
#Thala #Dhoni Is Come #INDvAUS pic.twitter.com/A0TBDgWOzO #MSDhoni #Ranchi Ka #Raja

— #RakulPreetFc (@RakulPreetFc_10) March 8, 2019
#6
All we can hear now is,
Dhoni.. Dhonii.. Dhoniii.. #INDvAUS #Dhoni #TeamIndia pic.twitter.com/T0tXX6D11x

— RocKy Edward (@imRockylahariya) March 8, 2019
#7
His Den Is Whole Of India…..Cricketing World Map Is His Territory…..#MSDianForever….

— चौकीदार डॉ० शोभित केष्टवाल (@ShobhitKeshtwal) March 8, 2019
As someone rightly said, Dhoni is an emotion.

The post This Video Of Fans Cheering For Dhoni In A Packed Stadium Will Surely Make You Emotional appeared first on RVCJ Media.