Narendra Modi as a PM has run several campaigns in India, some of which have received a mixed response and others have been received positively. Ahead of the General elections 2019, Modi has announced the "Main Bhi Chowkidar" campaign where everyone especially BJP leaders are using Chowkidar ahead of their name.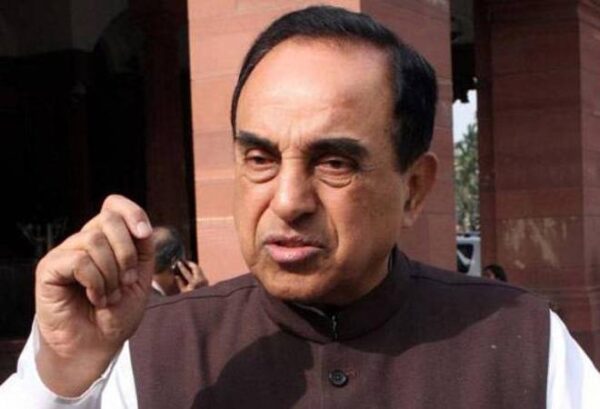 However, BJP MP Subramanian Swamy says that he can't be a chowkidar because he is a Brahmin by the cast.
In a recent interview with a Tamil News Channel, Swamy made the controversial statement which is already being called "casteist" by many people on Twitter.
Swamy was asked why he hasn't used the term Chowkidar ahead of his name on Twitter and answering the question, he said that he cannot become a Chowkidar because he is a Brahmin. He will give the orders and Chowkidar has to execute it, he said.
Watch the video below:
Frank ஆ பேசராப்ல. Wish he campaigns for BJP in TN pic.twitter.com/TkQCqbX66S

— Dhanapal (@balu_twits) March 24, 2019
Click Here to watch the video on Twitter
Here's how Twitterati reacted to his statement-
#1
क्यों स्वामी जी
ब्राह्मण चौकीदार नहीं होते?
ये कैसी मनुवादी मानसिकता है आपकी?

— MP meena (@mmpal58) March 24, 2019
#2
@_YogendraYadav @pbhushan1 @ShashiTharoor @kanhaiyakumar @Shehla_Rashid @jigneshmevani80
Do there exists anyone else apart from @Swamy39 who have such high educational qualifications from states & still believe & propagate hindutva and casteism.I thought pipl get rid of dis crap

— devansh agrawal (@agrawaldevansh4) March 24, 2019
#3
@Swamy39 I thought you were progressive minded. Is this news about you true?

— Mr Sarkar অভিষেক সরকার (@_Mr_Sarkar_) March 24, 2019
#4
आज के समय में भी ऎसी बात… क्यू
आज के समय जब भारत में जातिवाद कम हो रहा है तो क्यू उसे बढ़ावा देते हो

— chowkidar Rampal Kotiya (@rampal_kotiya) March 24, 2019
#5
मैं भी ब्राह्मण हुं। शायद इन्हें ब्राम्हण का अर्थ पता नहीं। देश, समाज, हर धर्म का चौकीदार ( रक्षक) होता है ब्राम्हण। दूषमनो का काल होता है ब्राम्हण। कर्म से ब्राम्हण, क्षत्रिय, वैश्य व क्षूद्र बनो। किस कुल मे जन्म हुआ यह बड़ी बात नहीं। कर्म से महान बनो

— Chowkidar Uday – B.E.-CIVIL (@Uday11000) March 24, 2019
#6
@Swamy39 is famous motor mouth & want to be in news always.Its very unfortunate that BJP admitted this man & made MP.Put a mic & can expect something loose..

— prashanth (@prasha_bp) March 24, 2019
#7
तो फिर मोदी जी किस कास्ट से आते हैं और बाकी जो लोग चौकिदार लिखे हैं वे सब किस कास्ट से हैं!

— Shaukat Ansari-शौकत अंसारी (@Shaukataindia) March 24, 2019
What are your thoughts on this statement of Subramanian Swamy?
The post Subramanian Swamy Says He Can't Be A Chowkidar Because He Is A Brahmin. Twitterati Is Angry appeared first on RVCJ Media.