India has won ICC Champions Trophy twice till date, in 2002 and 2013. Indian cricket team shared the 2002 Champions Trophy with Sri Lanka but in 2013, the team defeated England in the finals. The 2013 win was a turning point in Rohit Sharma's career and he was upgraded to an opener with Shikhar Dhawan. Since then they had made and broken several records in cricket and went on to become ravishing openers of all times.
Rohit has made three double centuries in ODI cricket and four centuries in T20 cricket since he became an opener. He is one of the best top order batsmen. Sharma recently shared a throwback picture from 2013. Rohit and squad, Shikhar Dhawan, Suresh Raina, and Bhuvneshwar Kumar, were seen holding the champions trophy. But Rohit made a small mistake and captioned the pic wrong.
He wrote, "These are some memories you cherish for long" and added a hashtag #ChampionsTrophy2017.
In 2017, under the captaincy of Virat Kohli, team India reached finals but lost the match to Pakistan by 180 runs. However, realizing his mistake he later deleted his tweet.
Here is the tweet which he removed later.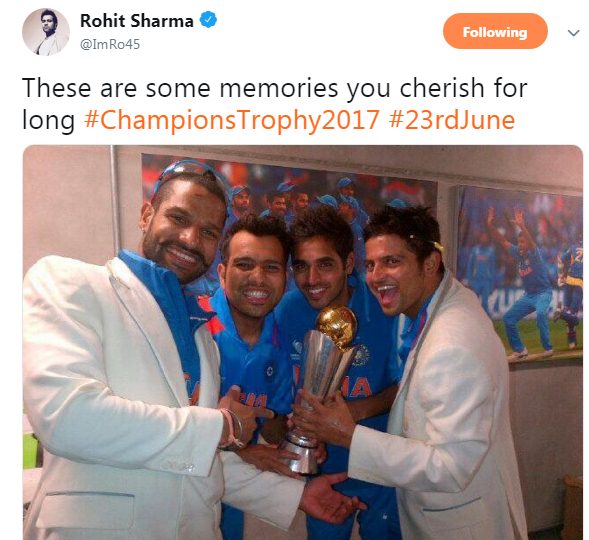 But the tweet had already caught twitterians' attention and people started trolling him for his silly mistake. Many corrected him, some made fun of him while some criticized him for making them remember the unfortunate day and defeat against Pakistan.
#1
Indeed memories to cherish for life brother, but ones from 2013 . You got me tricked too. https://t.co/7BAYbb4h6B

— Suresh Raina (@ImRaina) June 23, 2019
#2
Shastri ke sath hai na? Bol bol

— Sahil (@imsahil_11) June 23, 2019
#3
Hashtag to shi laga leta bhai.. Kyu puraani baatien yaad dilaa rha h#ChampionsTrophy2013 pic.twitter.com/R1IjlEIMic

— Saurabh Manjhi (@saurabhmanjhi_) June 23, 2019
#4
Shastri ji ke saath baithe ho kya bhaisaab?

— EL profesor (@sacredutd) June 23, 2019
#5
#ChampionsTrophy2013 actually sir.. 17 ko toh pata he humne kisi aur ko jitne dia tha

— Sarthak Rath (@sarthakascope_) June 23, 2019
#6
Abe pak ka coach ban gaye kya, we won in 2013, not 2017

— Rohith (@RohithSpeaks_) June 23, 2019
#7
Bhai haar gaye they hum wo wali13 hoga wo.mat yaad dilao

— Abhinav dhayal (@dhayal_abhinav) June 23, 2019
#8
I dont want to look into the comment section lol

— Hang on! (@Hangon97072538) June 23, 2019
#9
— Prachi Das (@PrachiNotDesai) June 23, 2019
#10
Deleting tweet in 3..2..1

— शुभम (@ShubhamK_45) June 23, 2019
#11
Bro it was Champions Trophy 2013 change it before someone makes a meme of it

— Aditya Kapadia (@adk296) June 23, 2019
#12
Delete it

— ☬ Kourageous (@EliteEvilQueen) June 23, 2019
#13
2013 hai bhai

— Saurabh (@Boomrah_) June 23, 2019
#14
Hey Ro huge admirer of yours..
But I think you meant #ChampionsTrophy2013

— Pranav Chaturvedi (@PranavChat7) June 23, 2019
The post Rohit Sharma Trolled For Sharing 2013 Champions Trophy Photo And Using Hashtag 2017 appeared first on RVCJ Media.