Religion and spirituality are topics related to soul only. Those who know the real meaning of religion, understand it's all about kindness, love and wishing best for others and at the same time, understanding the purpose of life and then fulfilling that task. However, it's tragic that very few people realise the fact and even bigger tragedy is that even those who call themselves "close to god" remain far from reality.
Every now and then we see godmen talking about everything apart from God and something like that happened recently.
A priest in Brazil church hosted a mass at Cachoeira Paulista, in Sao Paulo, to give sermon. Named Marcello Rossi, the priest shocked everyone when he said that "fat women don't go to heaven" but at the same time even he got the surprise of his life.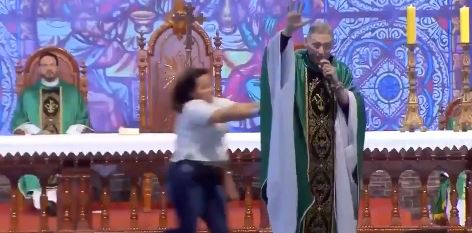 A woman jumped the stage and pushed him off and he fell down. A video of the same is going viral on Twitter and you can't afford to miss it. Have a look-
She shoved him because he said fat women won't go to heaven pic.twitter.com/lkL4qwplic

— (@zemunna) July 18, 2019
Click Here to watch the video on Twitter
The video is too short and only shows the reaction of the woman and not priest saying those words. However, it's being said that he said it before the video was shot.
Addressing the incident, the Church took to Twitter and wrote in their local language, "The father has suffered aggression during the Mass. We pray for him. Fortunately, the religious man did not suffer serious injuries and could continue with the Mass."
Padre Marcelo Rossi sofreu agressão enquanto celebrava missa na TV Canção Nova.

Estamos aguardando o pronunciamento oficial da instituição para mais informações sobre o estado de saúde do Padre.

Rezemos por ele. pic.twitter.com/rYknE2MlqC

— Cooperadores da Verdade (@oscooperadores) July 14, 2019
Here's how Twitter reacted to the video:
#1
What she did is God's action

— adhithya (@adhithya_b) July 19, 2019
#2
Hypocrite priest, that's why.

— glenn.lazado@yahoo.com (@GlennLazado) July 19, 2019
#3
Powerful push…now it was push from heaven….

— Vishal (@vishal11siddhi) July 19, 2019
#4
We need to get rid of religious clerics from every religion.

They are nothing but sick people

— Ashish Parashar (@ashishparasharr) July 20, 2019
What are your thoughts on this?
The post Priest Says, "Fat Woman Don't Go To Heaven", Angry Woman Pushes Him Off The Stage appeared first on RVCJ Media.