The Polar Vortex may have brought on record low temperatures in the Midwest regions of the US, but it has its own set of perks, we must say.
In Chicago, the temperatures are as low as minus 25 degrees, yet that's not stopping the residents from having a bit of winter fun outside.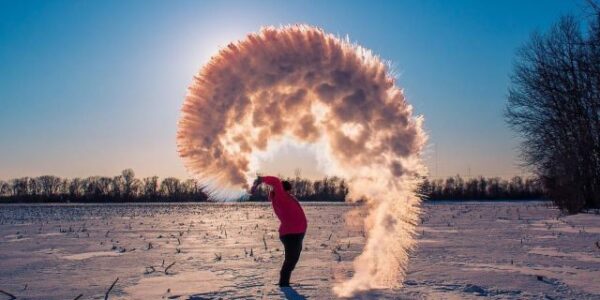 One trend that has gone viral is throwing boiling hot water in the air and watching it freeze instantly, and the videos are crazy good.
This is an effect called Mpemba effect where liquids which are above boiling point freeze instantly when exposed to temperatures below freezing point.
It might not be that cold in India, but you're going to love these videos:
#1
How a science teacher passes the time in a snow day. AccuWeather records current air temp at -21°F and wind-chill at -46°F If you do this, make sure you toss it so that the wrong doesn't blow the boiling water back into you. pic.twitter.com/06M61HEa9l

— Kathy Peake Morton (@kathyamorton) January 30, 2019
#2
Ross + boiling water + -22 degrees pic.twitter.com/tWLzGr47hD

— Kelly Teeselink (@kellyteese) January 30, 2019
#3
Boiling water freezing before it hits the ground. -21° F pic.twitter.com/qiPpD1ZEPX

— Jeff Friedman (@thefriedmanfirm) January 30, 2019
#4
Boiling water freezes before it hits the ground. -22/-49 windchill in Chicago. #Chicago #Jaden #chiberia pic.twitter.com/UPYVjloGBk

— clay carroll (@Clay_Carroll) January 30, 2019
#5
Throwing pans of boiling water in the air for fun – it's what we do in Wisconsin when the kids are cooped up in the house for days & days…. #PolarVortex #Wisconsin #winter #wintervortex #Science #freezing pic.twitter.com/IAxkTyavz2

— Robyn Gruner (@RobynGruner) January 31, 2019
#6
Boiling water droplets quickly freezing into ice crystals. -19 degree fun. Caution: boiling water will burn if not careful. pic.twitter.com/hJ3doP48nn

— Finley Math (@FinleyMath) January 30, 2019
#7
At -29 it's officially cold enough to turn boiling water into snow! pic.twitter.com/FkGb3MmQoj

— Christopher Ingraham (@_cingraham) January 29, 2019
#8
Boiling water gone BAD in #Chiberia pic.twitter.com/mSNHs0P9Sv

— CHRIS (@OHKAYCHRIS) January 30, 2019
#9
#snowday #polarvortex … boiling water to instant vapor (Temp: -25°F) pic.twitter.com/ajWHjv3Z8U

— Samantha Wolfe (@Ms_SamWolfe) January 31, 2019
#10
Boiling water meets – 25°F air#Chiberia #PolarVortex #MakingMoreSnow pic.twitter.com/jHWiJF6cJ1

— Coral Foo (@FooCoral) January 31, 2019
We love these videos and can't stop watching them on loop!
The post People In Chicago Are Throwing Hot Water In The Air To Watch It Freeze, The Videos Are Amazing appeared first on RVCJ Media.