In today's date, everybody gets body shamed or trolled for something or the other on social media. The person who body shames or trolls someone thinks if they don't like something up on the social media, it's their right to judge them and really cool to comment on it from sitting behind the screen if their laptops cause their eyes weren't pleased.
No celebrity is spared from hatred on social media, trolls often target their pictures and leaves their unwanted opinions.
Mandira Bedi was recently targeted by the trolls. The 46-year-old actress who sets fitness goals for the youth and often posts her workout regime or post work out pictures.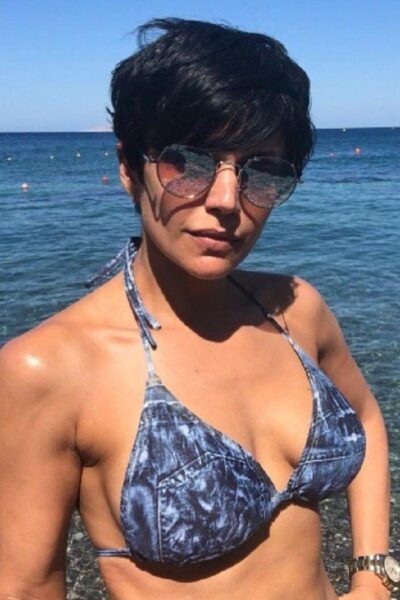 On Thursday, Mandira posted a picture of her on Twitter and Instagram showing her drool-worthy biceps and definitely setting goals for a lot of girls who prefers to be fit. But the picture is also having a tough time fighting with the trolls where people are judging her for her muscular body of her choice.
Mornin' pic.twitter.com/wuG6pQcOoj

— mandira bedi (@mandybedi) April 12, 2019
People are calling Manly Bedi, WWE contender and what not. The mindset of India is a woman should have a certain kind of body, even if they want to have muscular physic – drool worthy physic by choice, they can't because girls can't be fat they need to thin as it's supposed to be good or a perfect figure and if they have ab's then the trolls will tag them 'Manly'.
Here are few trolls which the picture surfaced :
1
Let me introduce the next WWE contestant

— raaghav kohli (@itsraaghav) April 12, 2019
2
Kya body banayi hai bade bhai ne , ekdum kadak .

— The Lal Mama (@iDALALMAMA) April 12, 2019
3
Mandira be like: Thanks SRK for rejecting my love in DDLJ!

— Raju Pahadi (@RajuPaahadi) April 12, 2019


4
Holy! Calm your.. umm.. biceps!
JK.
Awesome!

— Dhruv (@The_Lie_Lama) April 12, 2019


5
Bodybuilding participant representing India !!

— SUMEET (@Sumeet_Tambi) April 12, 2019


6
Do men find it sexy ??
Just pooching..https://t.co/nD6R3RgKSZ

— Chowkidarni Mօɖɨʄɨɛɖ Rɛռʊ (@renu_18) April 12, 2019


7
@WWE Calling !

— Mohammed Azeem Uddin (@princeeazeem) April 13, 2019
Amidst all the negativity she also received appreciation from few netizens :
1
She looks like someone I can trust… so yes, she is super attractive

— Sanju Paison (@cooloften) April 13, 2019


2
That's called female em POWER ment

— Harshad (@Goan_curry) April 13, 2019
3
More important is what she feels about her body , its her body after all… and those biceps are not easy to get…guys have different choices….. just boling

— ℂ𝕙𝕠𝕨𝕜𝕚𝕕𝕒𝕣 𝕊𝕙𝕚𝕧𝕒𝕞 𝕂 (@ShivamKreal) April 12, 2019
4
Have been always a fan of you mam, since Shaanti. You're fabulous!

— Raashul Tandon (@RaashulTandon) April 12, 2019
5
More power to you, woman. #Shanti

— मेघ (@yomegh) April 13, 2019
The post Mandira Bedi Brutally Trolled And Body Shamed On Social Media appeared first on RVCJ Media.