The Indian Premier League finale was nothing more than a magnificent match and we saw the most fitting finale as Mumbai Indians defeated Chennai Super Kings by 1 run and won the title for the fourth time. Mumbai Indians became the most successful team in the history of the tournament.
In the nail-biting match with the mediocre target of, 150 runs set by Mumbai Indians. Mostly the batsman of CSK failed to chase the score. But one person didn't give up till the last and almost took the Super Kings closer to the victory but was knocked out in a last over run out.

Shane Watson played a fantastic 80 runs knock off 59 balls and the changed the game for CSK's favour.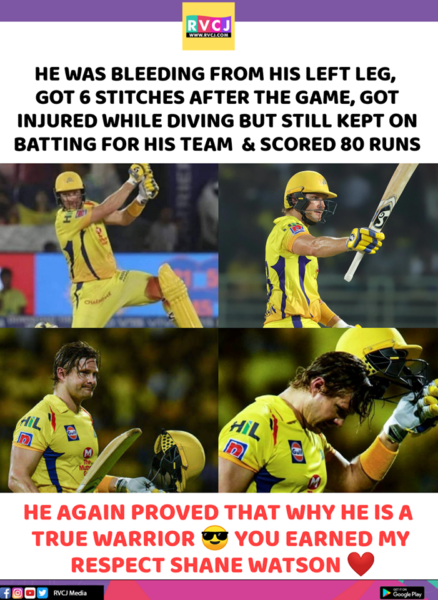 After the finale of one of the biggest cricketing league, a picture of the Australian ace cricketer went viral that emerged as the batsman being injured with blood stains on his pants and he still continued to play a fantastic inning.
WHAT DEDICATION?! THIS IS GOD LEVEL! You are one of a kind, champ! #WattoMan #KNEEngaVeraLevel #WhistlePodu4Ever #Yellove #WhistlePodu pic.twitter.com/0e6SycCSAu

— Chennai Super Kings (@ChennaiIPL) May 13, 2019

Shane was praised by everyone for his dedication towards the game and how he continued to play without even making anyone aware of the injury.
#ShaneWatson Synonyms Of the Dedication@ShaneRWatson33 Sir, Huge Respect For You

I don't see any player have dedication Like You

U are truly Legend#WattoMan God Level Dedication #Yellove #WhistlePodu4Ever
Come back next year Stronger
Get Well Soon Champ pic.twitter.com/UPqOd6mbsR

— Being Bharat (@Being___Bharat) May 14, 2019

Shane Watson's teammate Harbhajan Singh took to his Instagram story and praised the cricketer's dedication and even disclosed that the ace cricketer got 6 stitches after the match.
This proves the passion for cricket is something eose#Shanewatson at this age, wowpic.twitter.com/47DzORbiHN

— Malayalam BoxOffice (@malyalammovieBO) May 14, 2019

Well, this is not just a game it's sheer hard work and dedication for the love of cricket and for the fans. Watson set an example for everyone nothing can stop you from doing what you want to do if you're dedicated.
The emotions that all the #yellove hearts are going through makes us #believe in one thing! Watto's knee cap is our cup! #WhistlePodu4Ever @ShaneRWatson33 #WhistlePodu

— Chennai Super Kings (@ChennaiIPL) May 14, 2019

Malinga's super slow ball snatched the victory from Chennai Super Kings but Shane Watson's dedication won hearts :
#1
#ShaneWatson #WattoMan #CSK @ShaneRWatson33

Oh #shane, are you gonna mad….blood in knees still playing…..omg….wake up Shane it's 21st century…. nobody is left so down to earth so honest and pure … amazing outstanding hugeee respect…..u don't know what u did ystday! pic.twitter.com/pkZBD75YK0

— Msdian umang (@Umangdhoni7) May 14, 2019
#2
My heart was brokend when I saw this. What a dedication, what a performance! Thanks watto thanks a lot. IPL cup is not important for us. There is lot of IPL seasons here. Plz take care your health. Plz don't do this again. My huge salute for this man#ShaneWatson#CSK pic.twitter.com/wrp5e08dJy

— Praveen RK (@praveenr0229) May 14, 2019
#3
On realizing #ShaneWatson heroics in the #IPLFinal2019! #WattoMan #CSK pic.twitter.com/IlUY0y5jMw

— The Dikhlaut Guy (@kataidikhlaut) May 14, 2019
#4
We respect you You played Vera level #WattoMan #ShaneWatson #WattoMan @ShaneRWatson33 #CSKForever pic.twitter.com/pSsuaAZ266

— Ben (@benancis1986) May 14, 2019
#5
We salute u Watto for this. Deeply saddening to know. Your dedication is more than the cup to us. Floored by your determination and passion to win. God bless and Wish u a speedy recovery. #Yellove #WhistlePodu4Ever #ShaneWatson #CSKvMI @ChennaiIPL @ShaneRWatson33 pic.twitter.com/7iIuwh5jN4

— Karthik Raaj (@karthiktherebel) May 14, 2019
#6
This is a dedication & passion towards the sport. Cricket is above all borders & teams. Take a Bow Shane Watson Thank you for being a part of #IPL #ShaneWatson Get well soon#WattoMan pic.twitter.com/FNp2anXYF5

— P a l l a v i (@pallzie) May 14, 2019
#7
Cup Don't Deserve You @ShaneRWatson33

Real Hero Of The Fınale! #ShaneWatson #Watson#WattoMan #Watto! pic.twitter.com/1nf1CZfg0I

— V ı N A Y C H A G A N T I (@VinayChaganti0) May 14, 2019
#8
#Watson got injured while diving.. Blood was coming out from his knee.. Still, he batted without telling anyone during #IPLFinal2019 Got 6 stitches..

Respect..#CSK are one family.. Fans support them unconditionally.. Players give their best, without worrying about health.. pic.twitter.com/qgVkHujsus

— Ramesh Bala (@rameshlaus) May 14, 2019
The post IPL 2019 Final: 'Watto's Knee Cap Is Our Cup' Shane Watson Is Winning Hearts In Social Media appeared first on RVCJ Media.