Semifinals are here and the cricket junkies are all high on excitement. Top 4 teams who have qualified for the semi-finals are all set to compete for the silver trophy of the world cup. Meanwhile, the International Cricket Council seems to be in a fun mood.
ICC's official Twitter handle shared a painting featuring captains of all four teams crossing the road via zebra crossing and captioned the pic, "The Fab Four". The painting is inspired by the cover image of The Beatles' album Abbey Road.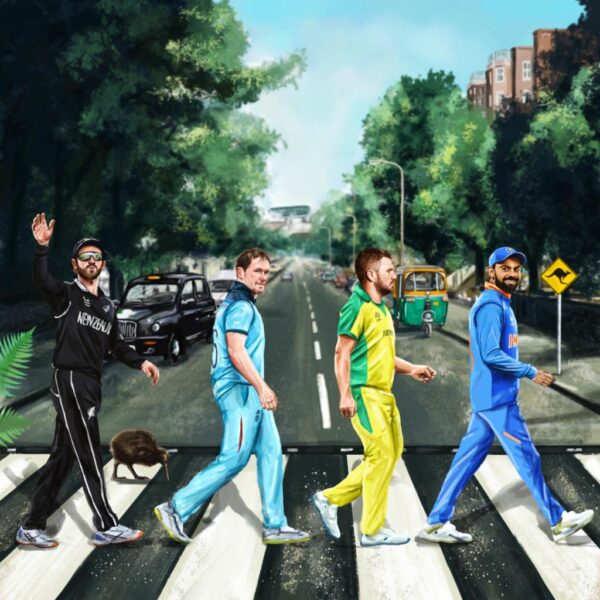 Virat Kohli can be seen leading the other three in the picture, while Kane Williamson is in the last. Interestingly, the picture also has one important element from all the four countries; an auto rickshaw from India, a Rolls Royce from England, a Kiwi for New Zealand and a kangaroo sign beside the road for Australia. Well, someone put a lot of thought in making this painting.
The Fab Four #CWC19 #KaneWilliamson #EoinMorgan #AaronFinch #ViratKohli pic.twitter.com/q1X0ARRGEC

— ICC (@ICC) July 8, 2019
Nagpur Police used the ICC's tweet to spread awareness about road safety.
Always important to remain focused and follow the rules of the road !#WorldCupfinal #CWC19

— Nagpur City Police (@NagpurPolice) July 8, 2019
While everyone else on Twitter either hailed the painting or had fun and shared memes about it.
#1
Rolls Royce on the left. Auto on the right. Abbey road and Mount road in one
! https://t.co/xM47rRYwl9

— Shivku (@shivku) July 9, 2019
#2
@ViratKohli r ahead in this pics, that means #WorldCup is ours. #ICC #CWC19 #TeamIndia https://t.co/pBc6rKKjKB

— mahesh M_urgunde (@mahesh_urgunde) July 9, 2019
#3
Baitho #KaneWilliamson #EoinMorgan aur #AaronFinch ghar chodh doon. #CWC19 https://t.co/9hXxzPP3BT pic.twitter.com/tyRjQUqoT0

— Autowaala (@Autowaala) July 8, 2019
#4
This photo reminded me of kumbalangi nights. https://t.co/XrWonZ2H2F pic.twitter.com/mavGxWQXDX

— . (@66centuries) July 8, 2019
#5
This is quite an underrated tweet. Shoutout to the artist and the art itself. Brevity and levity at its best. Fabulous! @ICC @cricketworldcup @BCCI #CWC19 #TeamIndia #INDvNZ https://t.co/C3LxUnk8wy

— Malav Shaldar (@MalavSS) July 9, 2019
#6
Idk why I'm reading so much into this but I can totally see Kane as George and Morgan as Paul, who were standing in the same queue on the Abbey Road cover as these two are. Gah https://t.co/H97IyAjqZj

— Saad Jilani (@saadrants) July 8, 2019
#7
Fab-bey Road!

— Chennai Super Kings (@ChennaiIPL) July 8, 2019
#8
Shouldn't Aaron Finch be barefoot? https://t.co/vx0TotCzfg

— Rick Eyre on cricket (@rickeyrecricket) July 8, 2019
#9
— ㅤ ㅤ ㅤ ㅤ ㅤ ㅤ ㅤ ㅤ ㅤ (@theesmaarkhan) July 8, 2019
#10
Real Fab Four of world cricket..happy bdy @SGanguly99 legendpic.twitter.com/PEwJ11w5RJ

— Avi Kaushik (@avi_kaushik4) July 8, 2019
#11
Not actually fab, but I can see one more. pic.twitter.com/aQmxF7sozg

— THE SKIN DOCTOR (@theskindoctor13) July 8, 2019
#12
पीछे तो देखो pic.twitter.com/esVSCrqWyM

— Memeकाpattaकड़वाhai (@Swap_nil_09) July 8, 2019
#13
Kohli: guys follow me! I'll show you the world cup. Koi hath nahi lagayega. https://t.co/bAH3gLWuzn

— Kaushal Kishor (@_kaushal_kishor) July 8, 2019
The post ICC Shares "The Fab Four" Painting Before Semi Final, Twitter Has Hilarious Reactions appeared first on RVCJ Media.