Hardik Pandya was pardoned by the BCCI and he was allowed to join the team directly in New Zealand for the ODI series. Today in the 3rd ODI series, Pandya proved his mettle.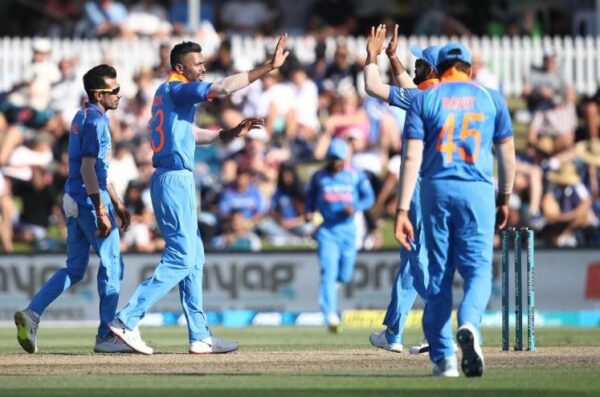 His superhuman catch became instantly viral on social media and people even began to compare him to Lagaan's Lakhan.
After appreciation and praises started pouring in for him on Twitter, he tweeted 'thank you' to thank his fans for support.
Thank you pic.twitter.com/rzIKQX7ELx

— hardik pandya (@hardikpandya7) January 28, 2019
Look at how people reacted to the tweets:
#1
aaj tum accha karke aaye

— Sunil- The cricketer (@1sInto2s) January 28, 2019
#2
Aaj main pakad ke aaya

— R E B E L – રેબલ – रेबल (@Gadhvilaxman) January 28, 2019
#3
Aaj main jeet-ke aaya hai pic.twitter.com/ocrKUYPtNX

— Karan (@karanku100) January 28, 2019
#4
Welcome back champion . So happy for you @hardikpandya7 #HardikPandya #hardikpandyareturn #indiavsnewzealand pic.twitter.com/8NKmsbbRmC

— Anurag Nishad (@AnuragN61265128) January 28, 2019
#5
— Love (@viratanushkafan) January 28, 2019
#6
Pandya proved his importance in Team.#NZvIND #HardikPandya pic.twitter.com/QS3qM4fgor

— Anurag Nishad (@AnuragN61265128) January 28, 2019
#7
Welcome back bro never take anything negative it happens jus make everyone shut with ur performance…much love and strength to yu

— Sindhu Chowdary (@Sindhujanuu) January 28, 2019
#8
आज आपन भाई ने तो कमाल ही कर दिया @hardikpandya7

— Guddu Sahwag (@GudduSahwag) January 28, 2019
#9
agli baar,kis bhakwaas dhang mat karna btw,badhaai ho champs

— रफीक फरहाज (رفیق فرہاز) (@farhaz98) January 28, 2019
#10
You are the best. Welcome back. Finally watching cricket again since you are back playing.

— VibhÖr Daga (@VibhorDaga) January 28, 2019
#11
U r a superstar bro .And u r going to be one of the best all rounders in world cricket in times to come.

We always support u.#HardikPandya

— CricMan (@cricadil12) January 28, 2019
#12
Kya lapkate hoo fan Hogya Apka
What a Catch Mazzaaaaaa Agya #NZvIND #INDvNZ pic.twitter.com/Saz5VuVXNC

— Devanshu (@HiDevanshu) January 28, 2019
#13
well played hardik…Galti Har insaan Se ho jaati hai..Aise hi khelte raho

— Jobee Randhawa (@JobeeRandhawa) January 28, 2019
Welcome back, Hardik Pandya.
The post Hardik Pandya Thanks Fans For Support After ODI Win, They Tell Him "Aaj Tum Achha Karke Aaye" appeared first on RVCJ Media.