A funny conversation between Wahab Riaz and Shahid Afridi caught on the stump mic has induced laughter on Twitter. The duo was batting in the ongoing Global T20 competition in Canada on Sunday. They play for Brampton Wolves and Afridi scored 81 runs off just 40 balls and remained unbeaten.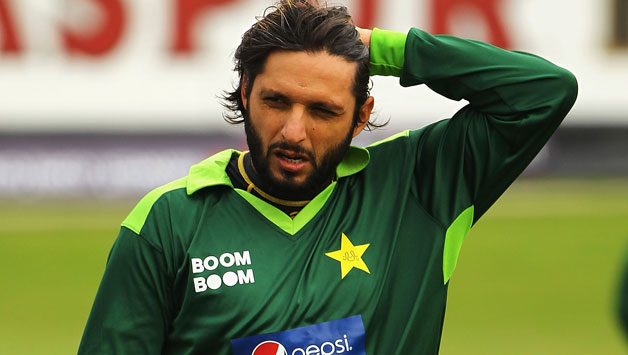 It was the last ball of their inning and despite throwing balls out of the boundary for 11 fours and 5 sixes, Afridi was too exhausted to make an extra run. He took a single and when Riaz asked him to take one more run, he replied "Pagal hai kya? Bowling Kaun karega?" (Are you mad? Who will bowl then?)
This is funny

Wahab Riaz: Lala, two runs?

Afridi replies: Pagal hai. Bowling kon kare ga? pic.twitter.com/9OTTPNJbvk

— Mazher Arshad (@MazherArshad) July 31, 2019
What he really meant was if he will be too tired, then he won't be able to bowl his best. Being the last bowl of their inning, they will have to field and bowl after a few moments.
But their hilarious exchange of words left fans in splits and they took it to Twitter to share their amusement. Everyone hailed Afridi for his witty reply except some who got another chance to troll a Pakistani player for his laziness.
#1
Mazhar bhai i dont think so its funny 1 run matters at the end this is what old pakistani players are famousing for

— Irfan Elahi (@IrfanElahi2510) July 31, 2019
#2
Haha my lala

— !! RIMSHA RAEES !! (@Peace_Love_Win) July 31, 2019
#3
Brilliant.

— Aktolgalı (@Imran75598389) July 31, 2019
#4
King of entertainment

— YaseenAhmed (@YaseenAhmed23) July 31, 2019
#5
That's the intent of Pakistani player always have…. I don't surprised at all

— Shivam Kumar (@ShivamK79684588) July 31, 2019
#6
Whether he could run or not he gave Wahab a valid reason to not run for the second run because it would be him bowling after some minutes. Very logical

— KASHAN (@Kashanistan) July 31, 2019
The post Global T20 Canada: Shahid Afridi Gives A Witty Excuse For Not Taking Run, Twitter Is Amused appeared first on RVCJ Media.