Celebs are constantly under scrutiny for the kind of clothes they're wearing, whom they're meeting up with, what they're eating and so on.
Recently, Divyanka Tripathi became the victim of some online trolls. A page named Diet Sabya on Instagram trolled Divyanka for wearing a belt which resembled the iconic Bengal tiger belts by Sabyasachi Mukherjee. They claimed that she copied the design.
But Ekta Kapoor, who is very close to the actress, came to her rescue. She said that the page should not be commenting on such things because the page itself is a rip off of Diet Prada.
She posted screenshots on her Instagram story and wrote, "When u ur self r a rip off but get off on stalking n catching ripoffs. The irony is more amusing than the page itself wat say."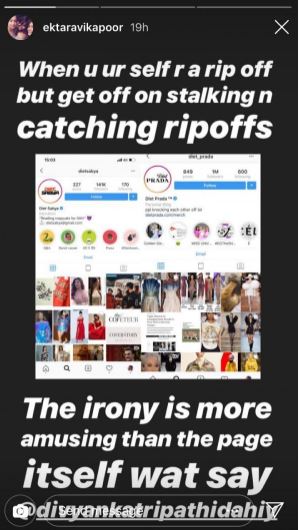 Divyanka had commented on the trolling and she said that this was the first time she faced something like this. She said she felt extremely embarrassed and hurt after the incident.
The point is, trolling a person, irrespective of the reason, should not be encouraged under any circumstances. No one needs that kind of negativity in one's life.
What do you think about this?
The post Divyanka Tripathi Trolled By Diet Sabya For Copying Outfit, Ekta Kapoor Slammed Them For Copying Diet Prada appeared first on RVCJ Media.