This Friday saw the release of two big films, Manikarnika:Queen of Jhansi and Thackeray. Both films were highly anticipated and carried huge expectations all along.
The films are from two different genres but still holds neck to neck competitive ability. Kangana Ranaut is the female lead in Manikarnika, whereas, Nawazuddin is the lead in Bal Thackeray's biopic.
As already said Manikarnika opened quite big with comparison to Thackeray. This film has an immense impact on the Indian masses already, and earned 26.85 crore after two days of release.
Manikarnika earned 8.75 crore on Friday and on Saturday the film earned 18.10 crore. Which made its total earning after two days, 26.85 crore.
Thackeray collected 6 crore on the day of its release. Gradually its earning is speeding up and so after day two this film collected 9 crore. So, till now it earned 15 crore after two days.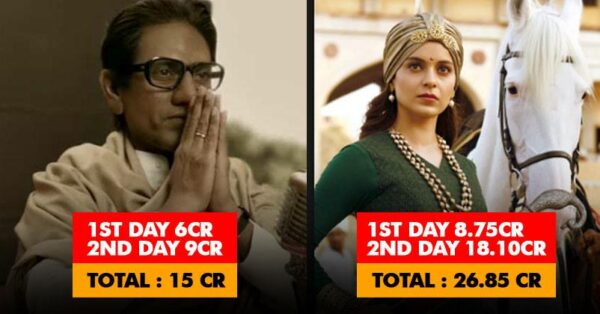 Since this is a weekend, film analysts and critics are expecting a steady rise in both of the film's earnings. As both the films got potential to earn good response from both masses and critics as well.
So, which movie are you planning to watch this weekend?
The post Day 2 Collections Of Manikarnika And Thackeray Out. See Which Movie Won The Race. appeared first on RVCJ Media.